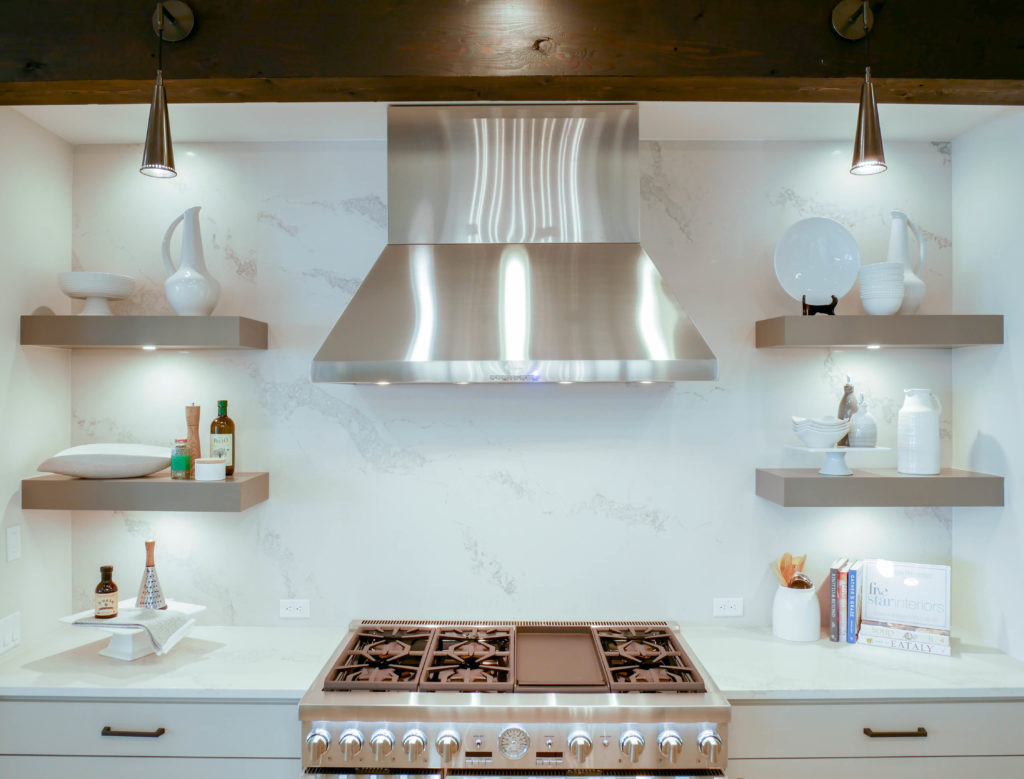 Form and Function of Quartz and Stone Backsplashes
Backsplashes are both form and function. They are essential around sinks in kitchens and bathrooms because they protect walls against inevitable water splashes and the ensuing stains. As a design element, they frame the space and can add a dramatic secondary dimension to countertop design.
The material you choose for your splashes depends on how you want it to interact with your countertops. For a seamless, modern look, you might want to use the same material for both the countertops and splashes. Alternatively, using a contrasting material can add drama and highlight the space.
Whatever material you choose to go with, there are a few options to consider in terms of design:
Traditional Splashes
Half Wall Splashes
Full Wall Splashes
The backsplashes you choose will depend on how the space will be used and your personal design aesthetic.
Traditional Backsplashes
Traditionally, kitchens are given a standard 6" backsplash and bathrooms a 4" splash. In kitchens, there is a greater chance of oil or food getting on the walls, leaving stains which can be challenging to remove, hence the need for a higher splash. Bathroom backsplashes can be shorter because the walls are usually only exposed to water and soap.
Full and Half Wall Backsplashes
There are many benefits for a higher backsplash. Many people simply feel like traditional splashes just don't do enough to keep splashes from staining the walls. For others, it is more of an aesthetic consideration. Higher splashes look more modern. Line them up with a specific feature, such as cabinets or windows, for a more purposeful look.
Centerpiece Splashes
Natural stone slabs contain beautiful patterns and veining. Displaying these pieces vertically makes them Marble, quartzite and onyx are especially popular for this treatment, as these materials tend to have dramatic movement that is more fully appreciated on a large scale.
Backsplashes provide and important function, but they are also a design element that will influence the overall look of your space. Whenever you are thinking about getting new countertops, you'll need to consider how you are going to treat the splashes. We are happy to walk you through the process and help you explore your options. Start your design journey using our free software by clicking here or come by our showroom and meet with one of our design specialists.